2016 Saskatchewan Polytechnic Employee Awards
Saskatchewan Polytechnic will become Canada's top choice polytechnic thanks to the hard work and dedication our employees put towards finding innovation solutions and helping students succeed in achieving their educational and career goals. Every year employees from each campus city are recognized for going above and beyond to support our vision and values and ensure Sask Polytech continues to be a recognized leader in the development and delivery of skills and technical training.
"Our Employee Awards program recognizes a high level of excellence, innovation and service from our employees," says Dr. Larry Rosia, president and CEO. "Their dedication is a vital component to our position as a key contributor to Saskatchewan's economic and social development."
Congratulations to this year's award recipients!
Chris Chasmar – 2016 Outstanding Service Award, Moose Jaw campus
Chris is a front-line IT support analyst, meaning that at times, he is the only interface employees and students have with IT service delivery. He is known for getting the job done effectively, efficiently and is passionate about his job. He often finds innovative solutions to problems and guides his team through complex IT issues. Having earned the nickname "Tech1" by his colleagues, Chris never hesitates to take on a leadership role and always puts the student first. He is an engaging, charismatic individual known for his wit, humour and making sure he leaves a good impression on every customer he deals with.
Colin Winter – 2016 Outstanding Service Award, Regina campus
Colin is an exceptional business analyst and project manager, working in Information Technology Services at the Moose Jaw campus. Colin has been involved with and led several high-profile projects throughout his time working at Sask Polytech including implementing Desire2Learn and the ongoing development of SNApp – a mobile app developed for and used by nursing students. Colin is dedicated to helping keep Sask Polytech a technologically advanced institution. He is known for his calm demeanour and common sense approach to dealing with complex issues, which has allowed him to achieve great success with all of his projects.
Patti Manson – 2016 President's Award for Excellence, Regina campus
As a Saskatchewan Collaborative Bachelor of Science in Nursing (SCBScN) Instructor, Patti continually contributes to advancing Sask Polytech's vision and values, helping to make our institution a leader in post-secondary education in more ways than one. Her leadership and mentorship in clinical teaching has allowed her to help more than 50 new faculty as they begin their journey in the SCBScN program. As the lead on many important initiatives, including indigenization of the curriculum, it is clear that Patti is dedicated to improving the learning experience for all SCBScN students. She created the clinical faculty handbook and often shares her teaching expertise with our collaborative partner, the University of Regina. She is known as a role model for other faculty and is a student-centred educator, having spent more than 15 years listening and helping each and every student that crosses her path.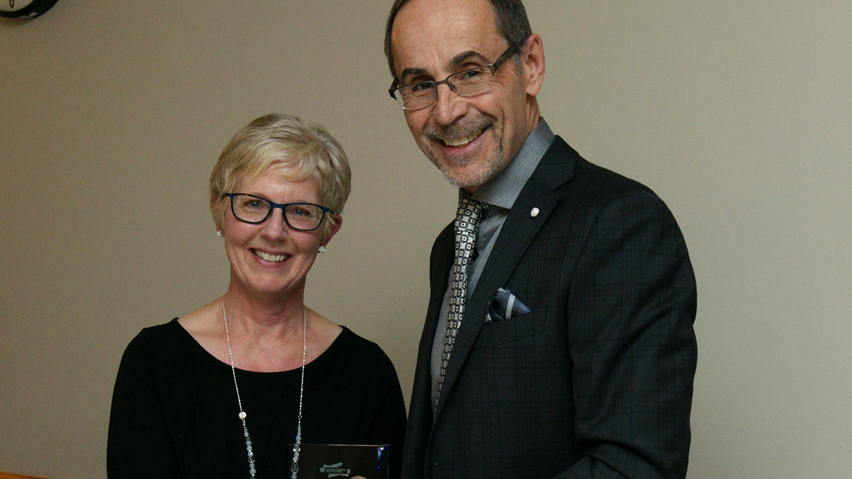 Jim Tait – 2016 Outstanding Service Award, Saskatoon campus
Jim has strong and diverse contributions within the Industrial Mechanics program. He has dedicated his career to educating students so they are ready to work upon graduation. Outside of the classroom, Jim is a valued member of the program team — he's always respectful and happy to support his colleagues, especially through coaching and mentorship activities. He is dedicated to his trade and to helping others learn more about trades, as demonstrated through his active involvement with Skills Canada. Jim's passion and collaboration was a key reason Sask Polytech was able to host the Skills Canada competition on our campus not once, but twice. He works at fostering strong partnerships with employers and brings unrivaled technical expertise to the classroom, ensuring his students are set up for success.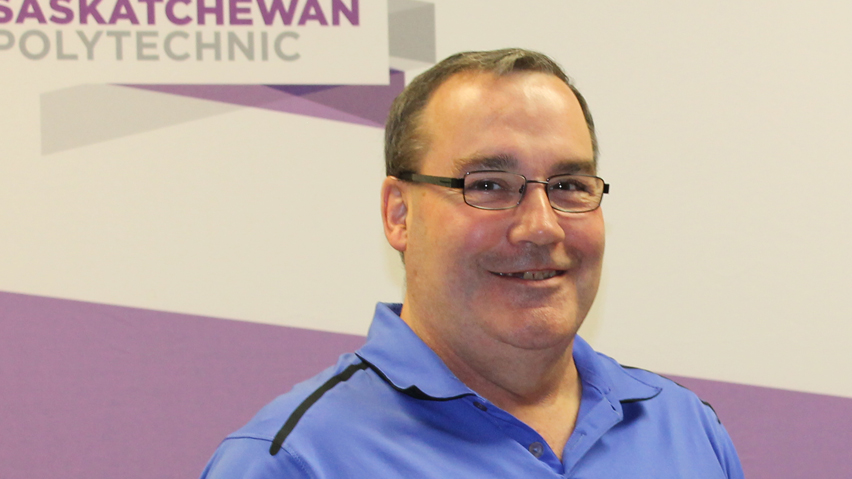 Melissa Mantyka – 2016 Outstanding Service Award, Sask Polytech Administrative Offices
Melissa is a motivating force within Sask Polytech's Instructional and Leadership Development Centre (also known as ILDC). Working out of the administrative offices, Melissa seamlessly supports the ILDC director, faculty and instructors at each of our campus locations. Her excellence shines through when she helps others. She strives to provide exceptional customer service and creates win-win situations for the benefit of all involved. Melissa is a positive part of the ILDC team and is greatly appreciated by everyone she works with.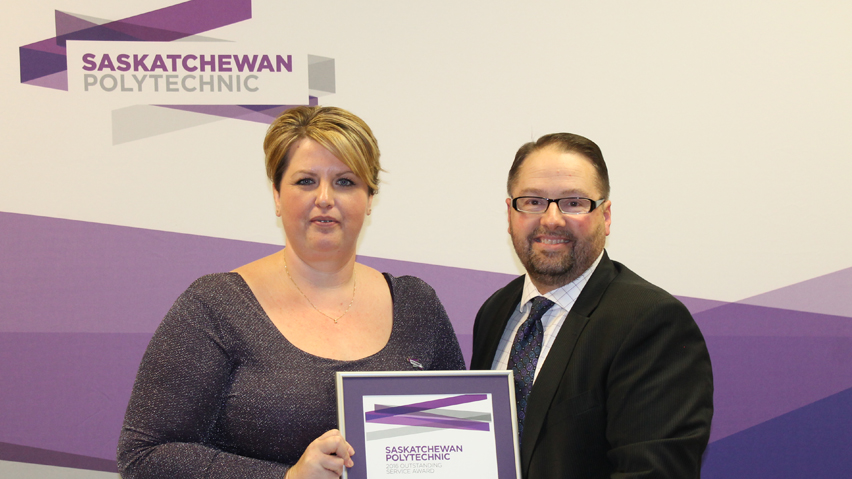 Theresa Papp – 2016 Innovation Award
Theresa, who goes by Therri, is the winner of the 2016 Innovation Award. She is passionate about helping Indigenous students find success at Sask Polytech. For the past three years, Therri has brought innovation into the classroom by incorporating new and emerging theoretical perspectives into her lessons. The lessons she teaches go beyond Sask Polytech and into the real-world. She engages students in such a way that they have been able to learn and apply their communications skills to raise nearly $17,000 for local charities. Therri helps to ensure each of her students succeeds in achieving their educational goals. Therri is an active researcher and a PhD candidate focusing on Indigenous student pedagogies, entrepreneurship for Indigenous students and gamification — areas of research that will allow Sask Polytech to continue to put students first in everything we do.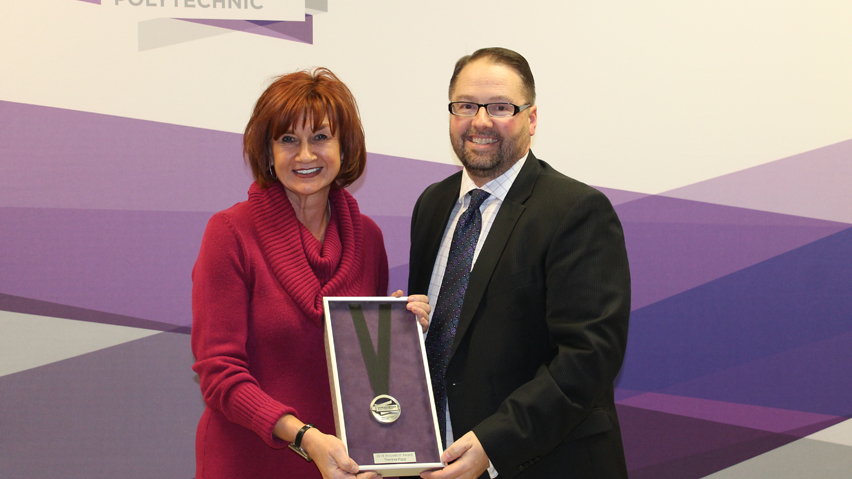 Tom Ross – 2016 Outstanding Service Award (posthumously), Prince Albert campus
Thomas "Tom" Hugh Ross was an instructor in the Electrician program at Sask Polytech, Prince Albert campus since 2007. He graduated from Sask Polytech with an Electrical Engineering Technology diploma in 1979, as a journeyperson electrician in 1989 and as a journeyperson instrumentation mechanic in 2003.
Tom loved his job as an instructor at Sask Polytech. His deep, robust voice would rumble through a classroom and keep the attention of all those in attendance. He was a man of conviction and his students were his top priority.
Tom was an integral part of the faculty and was always working to support his colleagues and offer advice. He designed a major portion of the program's student support materials, including handouts and animated presentations. His dedication to the trade helped him find practical solutions to some of the challenges of program development. He designed and tested technologically advanced labs to add to the curriculum when the program acquired new, state-of-the-art shop equipment.
Tom is dearly missed, not only by students but by campus staff and program faculty as well. He was not only a respected colleague, but also a friend to many.