Saskatchewan Polytechnic in Prince Albert
There are two campuses in Prince Albert. The Technical and Academic buildings are located side-by-side. Each building offers a friendly, comfortable and supportive learning environment. The education and training we provide leaves no question that Saskatchewan Polytechnic is the hub of post-secondary education in north central Saskatchewan.
This campus offers programs in the following schools:
We also provide an enriching range of student services, support distance learning and exciting career options.
---
About Prince Albert
Prince Albert is the third largest city in Saskatchewan. Also known as PA, the city in central Saskatchewan has a population of 45,000. Located in the broad valley of the North Saskatchewan River, near the geographical centre of the province, PA is where the agricultural prairie of the south and the rich boreal forest of the north meet.
There are lakes and forests close by that offer abundant recreational activities - dog sledding, quadding, boating and hiking.
---
Parking
Pay parking is in effect for staff, students and visitors.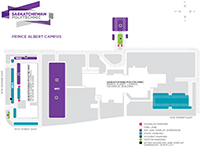 Prince Albert Campus Parking Lot (pdf)
View parking rates and details for more information.
---
Locations
Saskatchewan Polytechnic, Prince Albert Campus, Academic Building
1500 10th Ave E

Saskatchewan Polytechnic, Prince Albert Campus, Technical Building
1100 15th St E

---
---
Tours
Tours are available upon request. Please contact the Saskatchewan Polytechnic recruitment office at nemish@saskpolytech.ca or 306-765-1615 to book a time that fits your schedule.
---
Mailing Address
Saskatchewan Polytechnic, Prince Albert Campus, Technical Building
1100-15th Street East
Prince Albert SK S6V 7S4
Other contact information