Online Learning Support
Students who have registered in an online learning course, be sure to:
Order all course materials and books from the bookstore.

Review Saskatchewan Polytechnic and instructor communication sent prior to the course start date by either mail or email.

Complete the Online Course Orientation below.
Student support for online learning:
Accessing Your Brightspace (D2L) Online Course and mySaskPolytech
Overview
If you have registered for a course, you should have received a welcome letter from SaskPolytech. In the letter you will find your
nine-digit SaskPolytech ID number.
username.
If you can't locate your ID number or username, call Registration Services. (Toll free: 1-866-467-4278). Ask to be connected to your Saskatchewan Polytechnic campus (Saskatoon Campus; Moose Jaw Campus; Regina Campus; Prince Albert Campus).
Procedure
From saskpolytech.ca, place your cursor over mySaskPolytech button and left click your mouse to see visit mysaskpolytech.ca.
If you are prompted to login, enter your Sask Polytech username and Password at the login page.
Your username is an email formatted like this: username@saskpolytech.ca The username email always starts with your last name.


By default, your password is your birth date as a six digit number in the DDMMYY format, with no spaces or other characters. For example, if you were born on January 9, 1985 you would type 090185.





If you're already logged into the Sask Polytech network, you'll be connected right away.



From here, you can navigate to Brightspace by selecting the myCourse icon.

You will arrive at the 'My Home' page for your courses. Click on the name of the course you wish to access in the 'My Courses' widget.

Best Practices for Brightspace (D2L)
Brightspace (D2L) is Saskatchewan Polytechnic's integrated learning platform. This online environment provides students with an interface for accessing the content of their courses, including the course outline, course content, an assignment dropbox, quizzes, discussion forums and much more.
Use an up to date, modern browser to access Brightspace (D2L). That is, Internet Explorer 9 and above, Google Chrome, or Firefox. Internet Explorer 8 and Firefox 23 (and older) are not supported.
It is a good idea to do a 'System Check' before you login to Brightspace.
If you are unable to access the mySaskPolytech login (i.e. it is not working or cannot be reached), try logging in to Brightspace (D2L) at online.saskpolytech.ca.
Once in D2L, if you are having an issue with a tool in one browser, please try a different browser. Some D2L tools, features and functions could perform better in a different browser.
Before starting your course, please see the Student Help widget (image below) on your Course Home page to become familiar with the Learning Environment.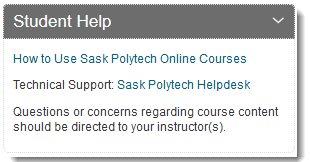 Your userID is assigned to you by Saskatchewan Polytechnic:
on campus: you will receive your user ID and password at an orientation or from your instructor
off campus: you will receive your user ID and password by mail from Registration Services or your program
If you can't locate your UserID call 1-866-467-4278and ask for Registration Services

Your password is your birthdate as a six digit number with no spaces or other characters. (ie. If you were born on January 9, 1985 you would type 090185).