Women in Trades and Technology (WITT)
Is it time for you to start planning for the career of your future? Have you always wanted to work with tools but haven't had the opportunity? Are you interested in technology but haven't had a chance to really try it out? Are you interested in investigating a career in a trade or technology field?
---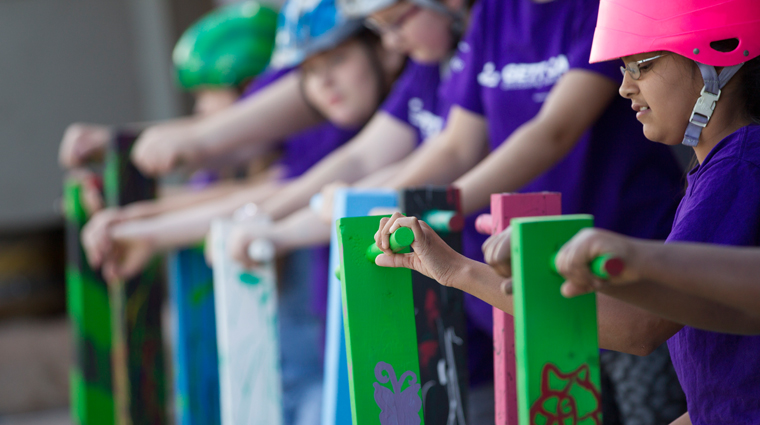 Girls Exploring Trades and Technology (GETT) Camps
Sponsored by SaskPower
GETT camps are fun ways to introduce girls currently in grades 6, 7 and 8 to possible future careers in trades and technology while they attend an enjoyable week-long day camp. Girls are introduced to women who work in a variety of fulfilling occupations who spend time promoting the importance of career awareness through activities with the participants.
Benefits of attending a camp include:
Girls build self-awareness and confidence.
Girls understand that they have options to select occupations according to their own talents, skills and abilities.
Girls think about career options that go beyond the societal norm and they see themselves as a person first, not a gender.
Girls learn through doing that they have strength, agility, stamina and other traits required for working in physical occupations.
Girls learn how to safely use shop tools.
Each girl gets a chance to use tools and participate in a collaborative style in creative decisions. Girls are encouraged to be inventive and solve problems using all of the materials at hand. They work individually or in pairs on each project, with the final project being the design and construction of either a go-cart or scooter.
After completing the camp, girls are excited and empowered by their experiences. Tools and technology are demystified and are placed in a real context for them. As a result, girls can see themselves working in one of the otherwise overlooked technology and trades occupations.


Learn more about courses and resources for Women in Trades and Technology at saskpolytech.ca/WITT.


This course currently has no offerings.