Saskatoon Convocation Ceremonies
Friday, May 27, 2016
TCU Place, 35 22nd Street East, Saskatoon SK
Google map directions
Share your success with your friends and family. Invite them to watch. #SaskPolytech2016
Saskatoon Afternoon Ceremony
Share your success with your friends and family. Invite them to watch. #SaskPolytech2016
Convocation Program
Download your souvenir pdf program.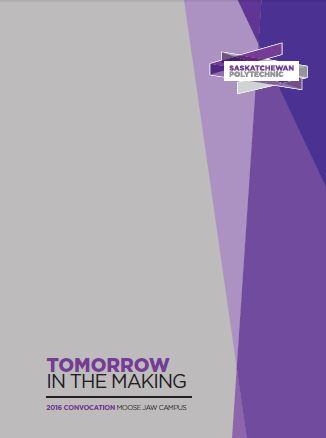 Your convocation ceremony provides time to reflect and celebrate your personal and professional accomplishment. Saskatchewan Polytechnic is proud to share in your success and offers congratulations to all students and the graduating classes.
Students will receive an email invitation to their @saskpolytech.ca email accounts the week of April 18 inviting them register to attend the 2016 ceremonies.
Based on your program division, each graduating class is scheduled to participate in either the morning or afternoon ceremony. If you do not know what division your program belongs to, click on the links below to view a list of programs within each division.
9 a.m. Ceremony

1:30 p.m. Ceremony

Arts and Sciences (Adult 12 Program)

Human Services and Community Safety

Information and Communications Technology

Mining, Energy and Manufacturing

Nursing

Faculty Certificate Program

Graduates must arrive at
Gallery AB by 8:15 a.m.

Animal and BioSciences

Business

Construction

Health Sciences

Hospitality and Tourism

Transportation

Graduates must arrive at
Gallery CD by 12:45 p.m.
Students will receive an email from convocation@saskpolytech.ca the week of April 18 inviting them to register for convocation.
On Your Graduation Ceremony Day
Ensure you know if your program is scheduled for the morning or afternoon graduation ceremony.
Arrive at TCU Place, (Gallery AB for the 9 a.m. ceremony or Gallery CD for the 1:30 p.m. ceremony) at least 45 minutes before your ceremony. As there is a large number of graduates, it is critical you arrive on time. Volunteers will be available to assist you.
Following the ceremony, your graduation gown and v-stole must be returned immediately to Gallery AB or CD.
Purses, bags and cell phones are not allowed on stage and should not be left unattended. You are encouraged to leave those items with family and friends, as Saskatchewan Polytechnic will not be responsible for lost or stolen articles.
A graduation tea will be held immediately following each ceremony in Centennial Hall A/B. All graduates and guests are invited to attend.
You are welcome to invite family and friends to attend this celebration. There are no tickets required and no limit to the number of guests you can invite.
Contact Information
For questions about graduation ceremonies, contact: convocation@saskpolytech.ca
To determine graduation eligibility, contact Registration Services: 306-659-4800