Tips for Reference Lists
Alphabetize
Record only the resources you have cited in the body of your paper
Note the Following
First names are initials only
Titles of articles are not italicized nor capitalized; titles of journals are capitalized
All 2nd & subsequent lines are indented
doi = data base catalogue number
If no doi provide URL of the journal home page
All entries are double spaced
If two or more publisher locations are listed use the location listed first.
More Tips
Write the reference entry in the following order: author, year, title of article, title of journal, volume & edition numbers, pages of the article.
If there is no author use the title of the article followed by the date, etc.
When referencing an edited book such as a dictionary, place the editor(s) name(s) in the author position & follow with the abbreviation (Ed.), date, title, number of the edition (6th ed.) volume number, city & publisher.
Sample Entry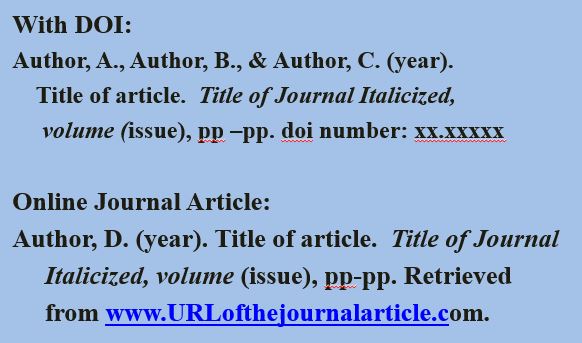 Online Resources
Questions?
Contact lswascana@saskpolytech.ca