The Saskatchewan Polytechnic President's Partnership Awards
2017 Award Recipients
Program Partnership Award
The Program Partnership Award is presented to an organization, individual or individuals, who have made a notable contribution to the development of a new or existing Saskatchewan Polytechnic program.
Presented to Gillian Oberndorfer, Director, Clinical Quality and Professional Practice, for the Regina Qu'Appelle Health Region
The strategic leadership of Gillian Oberndorfer, Director, Clinical Quality and Professional Practice, Regina Qu'Appelle Health Region (RQHR), has been instrumental and invaluable in the delivery of clinical practice education within Sask Polytech's sixteen School of Nursing programs.
All of Sask Polytech's School of Nursing programs have a significant focus on clinical practice knowledge and competencies. For many years, the RQHR has collaborated with the School of Nursing and facilitated high quality clinical placements that meet the objectives of the course and the intents of the program. More than 1,000 placements and preceptorships are facilitated by RQHR for the School of Nursing programs each year under the guidance of Gillian's leadership.
Gillian's leadership and invaluable contribution on the Nursing Education Program of Saskatchewan (NEPS) Advisory Committee is highly valued. She participated as a member for three years and subsequently served as the Chair for three years (2005–2011). Gillian also participated on the provincial Clinical Practice Education Strategy Committee from 2012–2015 and contributed to the coordination of clinical placements across multiple educational institutions and health regions.
Through Gillian's advocacy and partnership with Saskatchewan Polytechnic, thousands of students enrolled in School of Nursing programs have been able to start their careers with a level of skill and knowledge, which allows them to deliver exceptional service and care to their patients.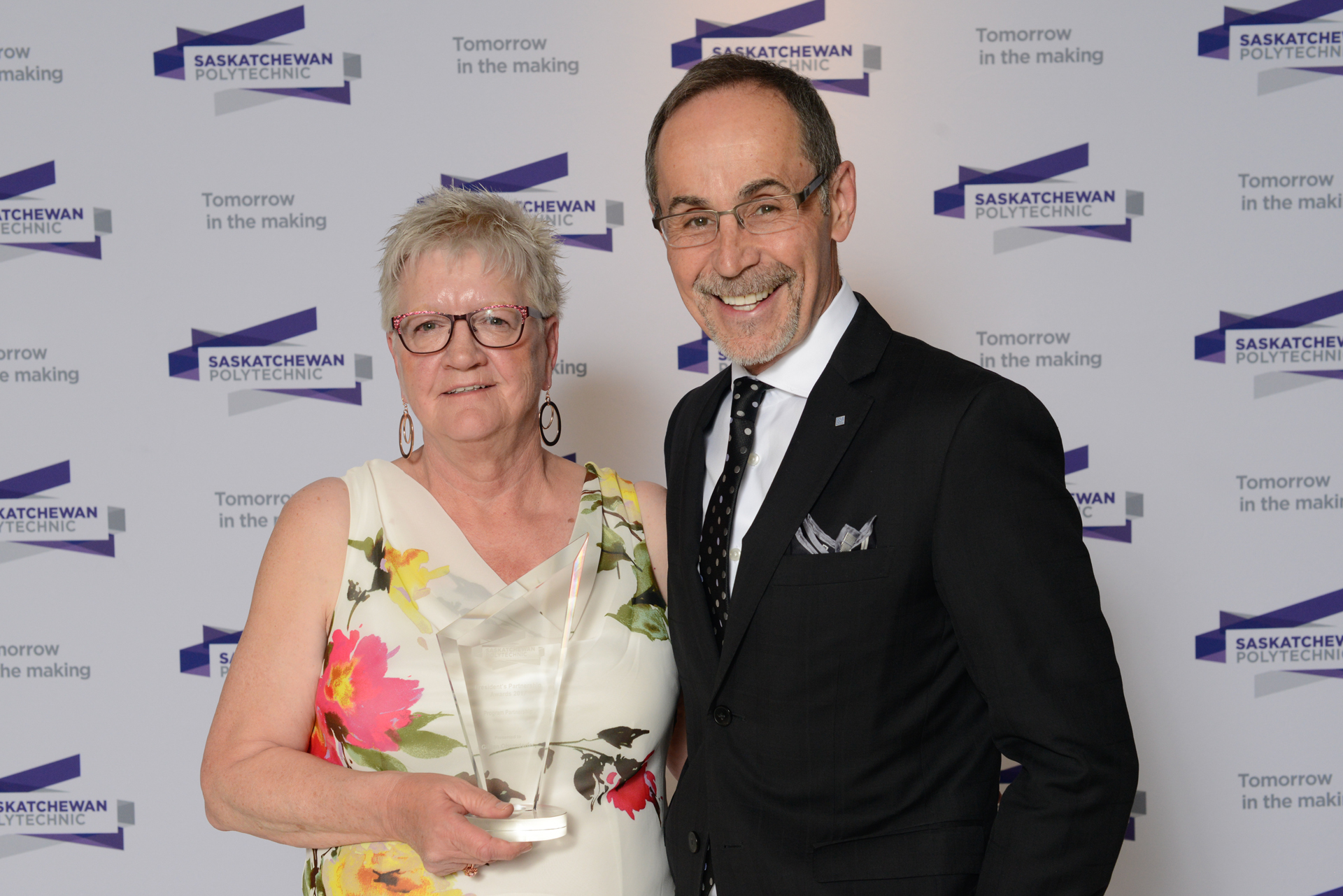 Alumni Partnership Award
The Alumni Partnership Award is presented to an alumnus, alumna or alumni who have advanced the reputation of Saskatchewan Polytechnic and/or made a notable contribution to Saskatchewan Polytechnic through a variety of means.
Presented to George Pohorelic
Born and raised in Yorkton, Saskatchewan, George Pohorelic graduated from the Auto Body Technician program at Saskatoon campus in 1986. After working in the auto body industry for a few years, George entered the Power Engineering Technology program, and graduated in 1991 with a 3rd class Power Engineer ticket.
In 1990, Saskferco, a nitrogen fertilizer producer, began building its facility near Belle Plaine. A year later, the company made a visit to Saskatchewan Polytechnic's Saskatoon campus, and hired 15 Power Engineering students to be part of the new operations department. A majority of those 15 employees are still at the site today, including George.
George's career at Saskferco began as a Process Operator, progressing to Shift Supervisor and then to his current position as Operations Manager/Chief Steam Engineer. Like many Sask Polytech alumni, George continued his education throughout his career, and went on to obtain a 1st class Power Engineer ticket.
After being purchased by YARA International in 2008, Saskferco became Yara Belle Plain. The site employs 160 people and produces 5 different Nitrogen products, 4 Fertilizers and 1 industrial solution. As Operations Manager of Yara Belle Plaine, George is considered 2nd in command and is responsible for 65 staff members. Approximately 75% of these staff are Sask Polytech alumni.
George's contributions to Saskatchewan Polytechnic include not only advocacy and support for the organization, but also serving as a member of the Power Engineering Technology Advisory Committee for three terms, a total of nine years.
George is a valued advocate for Sask Polytech. His strong belief in the value of a Sask Polytech education has been passed down to his children; three of his four children are also Sask Polytech alumni.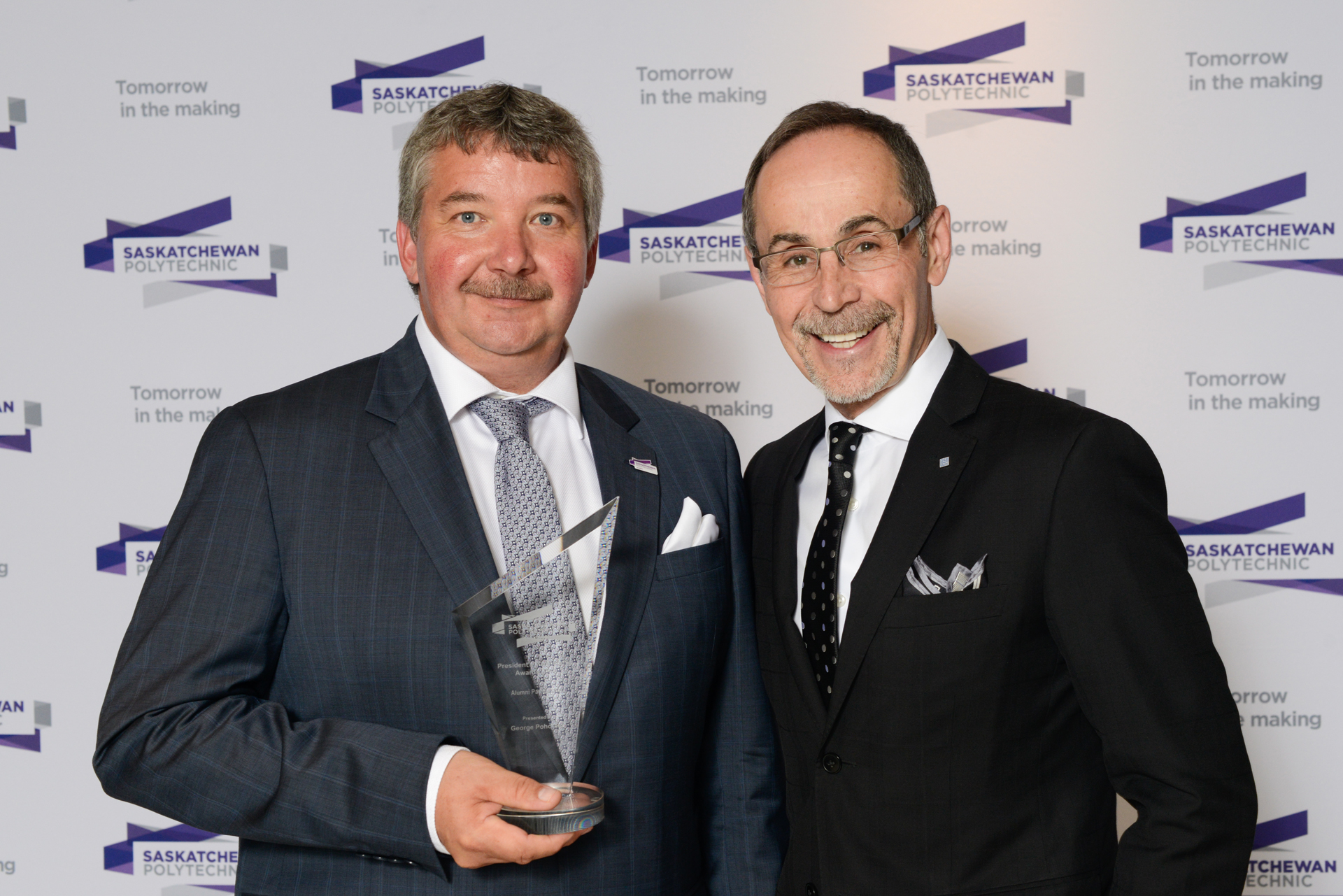 Industry Partnership Award
The Industry Partnership Award is presented to an industry partner that has supported Saskatchewan Polytechnic's overall mission through a variety of means and over a period of time.
Presented to Spartan Controls
The leading provider of process control, measurement and automation solutions in the process industries in Western Canada, Spartan Controls is also a leader in ensuring that Saskatchewan Polytechnic students have access to new technologies.
The Spartan Controls Centre for Instrumentation Technology, has provided Sask Polytech students with countless hours of applied learning opportunities. For nearly 10 years, Spartan Controls has made it possible for Sask Polytech to continually update equipment used by students in the Instrumentation Technology and Instrumentation Technician programs.
Those opportunities have ensured that graduates of Instrumentation programs have the knowledge and skills needed by industry as technology has changed.
The on-going upgrades to the training lab would not have been possible without the support of Spartan Controls.
Spartan's support was one of the first instances of a large scale on-going gift, which made it possible for Sask Polytech to ensure that as technology changed or new technology was introduced, it could be integrated into the learning environment in a thoughtful and deliberate way.
Like many Sask Polytech industry partners, Spartan Controls helps to ensure that Sask Polytech's program curriculum are relevant and responsive to industry needs through its membership in a program advisory council. Support for student awards is also a feature of the longstanding partnership between Sask Polytech and Spartan Controls.
Saskatchewan Polytechnic considers its partnership with Spartan Controls something to celebrate, and is proud to recognize the contribution of Spartan Controls to Sask Polytech by presenting it with the 2017 President's Industry Partnership Award.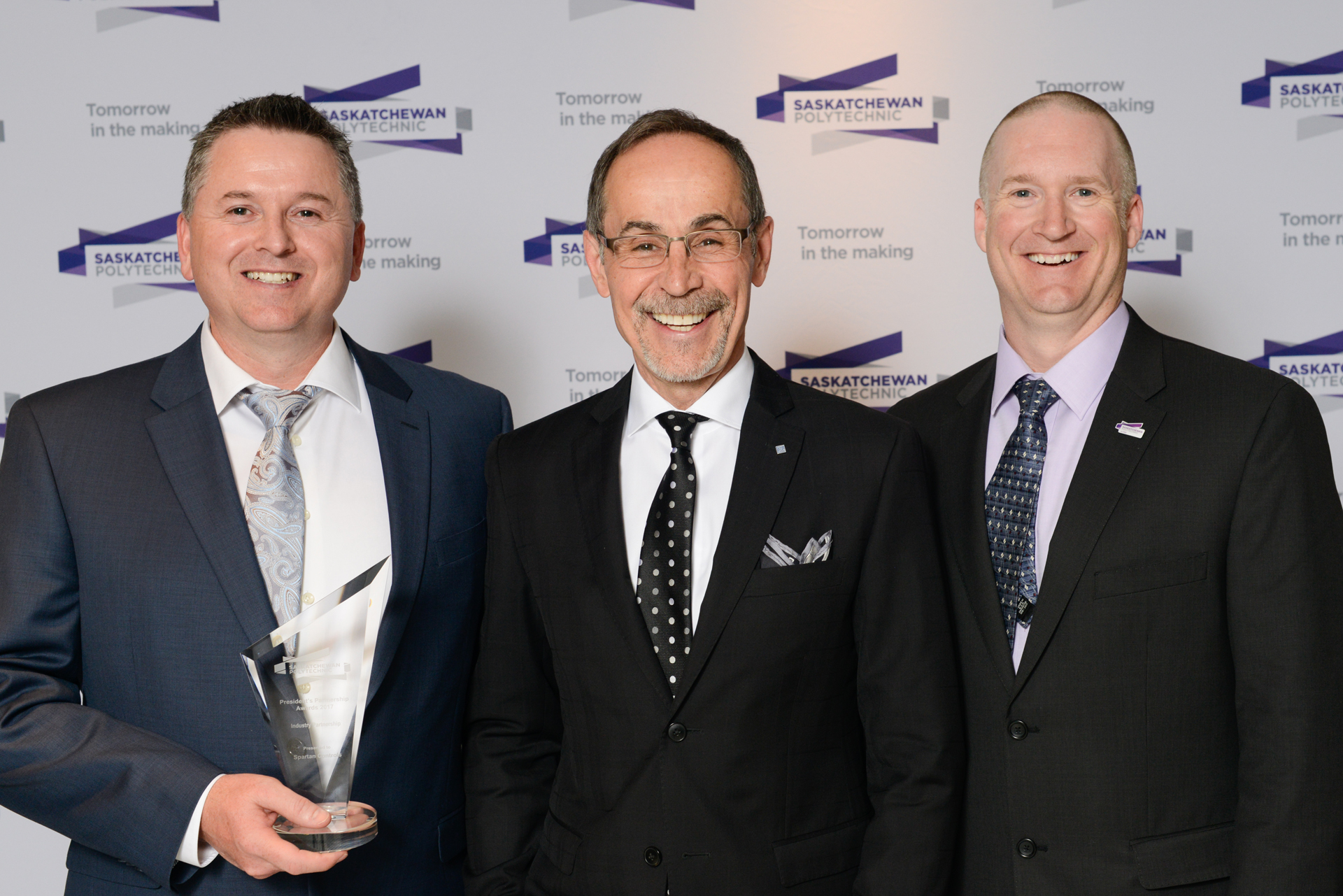 Young Alumnus Partnership Award
The Young Alumnus Partnership Award is presented to a young alumnus whose accomplishments provide inspiration and leadership to students and other young alumni. The recipient has been identified as an emerging leader in their professional life and/or the community.
Presented to Chantel Buffalo
Chantel Buffalo is from the Kawacatoose First Nation. She decided she wanted a better life for her kids, than she had as a child and teenager.
And so, at the age of 28, with four young children, she headed back to school. She spent two years upgrading through the Adult Basic Education program at Sask Polytech before enrolling in Sask Polytech's Hotel and Restaurant Management Diploma program in Saskatoon.
She was a dedicated student who worked hard to maintain a positive attitude and earn marks in the 90s. She had to overcome some tough obstacles, and kept herself to a rigid schedule to fit school, studying and family time into her days.
During her time at Sask Polytech, Chantel became a role model for other students, providing advice and encouragement. She is featured in the Aboriginal Student Achievement Plan role mode calendar, and has spoken about her experiences at several events including a keynote presentation at a Colleges and Institutes Canada 2016 Indigenous Education Symposium at Yukon College, and last year was nominated for CBC Saskatchewan's Future 40.
Chantel graduated from the Hotel and Restaurant Management Diploma program in May, 2016.
Chantel's future plans include opening a restaurant with a menu that blends her First Nations and Laotian heritage.
Chantel is an inspiration to all who come in contact with her, and exemplifies Sask Polytech's determination to seek excellence in all things. Sask Polytech is very proud to present Chantel Buffalo with the inaugural Young Alumnus Partnership Award.