School of Health Sciences News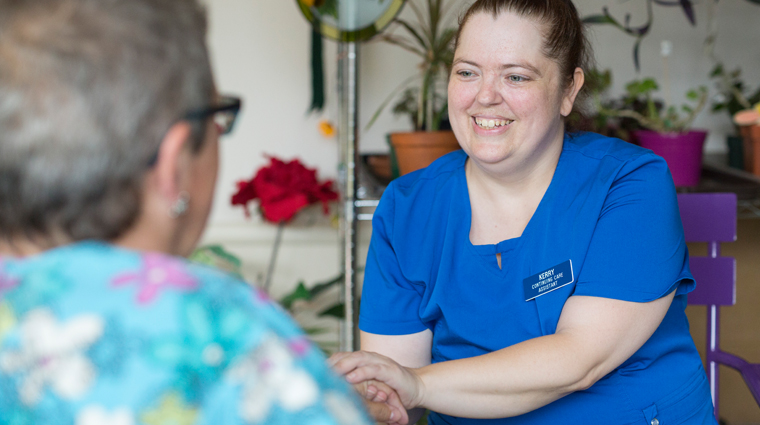 Dual credit courses available to high school students seeking health-care careers
Communications and Marketing
-
June 14, 2016
Saskatchewan Polytechnic is offering Continuing Care Assistant dual credit courses to Chinook high school students in partnership with the Cypress Health Region June 15, 2016 - Students enrolled in the Chinook School Division can now enrol in up to four courses that will be recognized as credit towards both high school graduation and a Saskatchewan Polytechnic Continuing Care Assistant certificate.
Tweet
tags: News, School of Health Sciences, Successful careers
---
Sask Polytech celebrates five years of Dental Day with the addition of special dental hygiene programming
Communications and Marketing
-
May 6, 2016
Program supports community while providing students with valuable applied learning opportunities May 6, 2016 - This Saturday, May 7, the community will be all smiles at the fifth annual Dental Day. The event sees dental hygiene and dental assisting students from Saskatchewan Polytechnic's Regina campus partnering with the Regina Food Bank and the Regina Open Door Society, to open a dental clinic to those in the community who need a checkup and other dental work.
Tweet
tags: News, Regina, School of Health Sciences, Economic and social prosperity
---
Sask Polytech dental faculty member recognized nationally
Communications and Marketing
-
October 27, 2015
Diane Edwards receives DAEC award for outstanding educator October 27, 2015 - The Dental Assisting Educators of Canada (DAEC) recently announced Saskatchewan Polytechnic faculty member Diane Edwards as the recipient of their 2015 Award for Outstanding Educator. As a national body, DAEC provides the opportunity for its members to enhance and articulate dental assistant education in Canada.
Tweet
tags: Academic, School of Health Sciences, Successful careers, Pursuing excellence
---
Dynamic online learning platform streamlines student experience
Communications and Marketing
-
April 13, 2015
Students enrolled in Saskatchewan Polytechnic's online courses now have a powerful learning platform right at their fingertips. Brightspace, by Desire2Learn (D2L) is a dynamic online integrated learning platform now available to students in all 577 online credit courses offered at Sask Polytech. This contemporary, user-friendly program helps students and instructors stay connected 24/7 though computers, tablets and mobile devices.
Tweet
tags: Academic, Continuing Education, School of Academic and Career Education, School of Animal and BioSciences, School of Business, School of Construction, School of Health Sciences, School of Hospitality and Tourism, School of Human Services and Community Safety, School of Information and Communications Technology, School of Mining Energy and Manufacturing, School of Natural Resources and Built Environment, School of Nursing, School of Transportation
---